Treat your mom to a special Mothers Day 2019!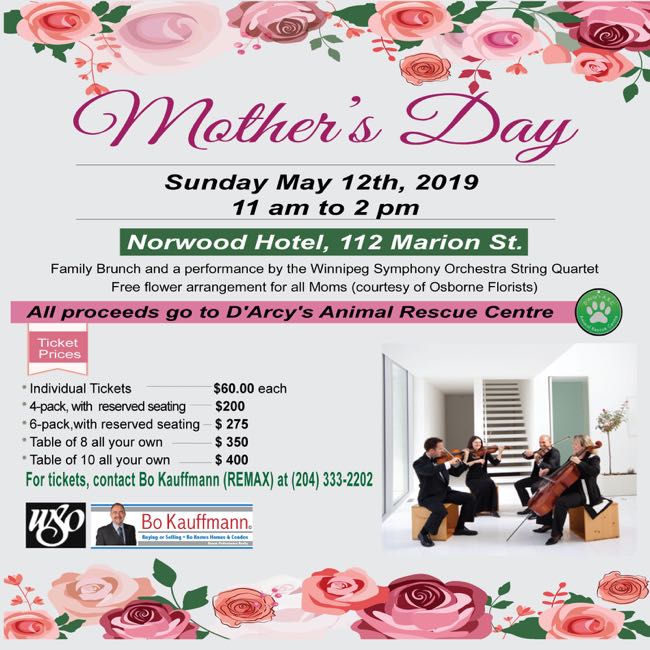 The BNI Accelerators are hosting a very special Mothers Day Fundraiser event on:
Sunday, May 12th, from 11:00 am to 1:30 pm
Norwood Hotel,  112 Marion St
All proceeds to go to D'Arcy's Animal Rescue Centre, 730 Century St. Winnipeg
The event will include a brunch and a performance by a String Quartet featuring members of the Winnipeg Symphony Orchestra.
All seating is reserved, family style, so no rush seats.  Tickets are priced at:
Individual Tickets                                       $60
Pack of 4  (1/2 table of 8)                          $200
Pack of 6                                                        $275
Your Own Table of 8                                  $350
Your Own Table of 10                                $400
Tickets available right here, online  (convenience-fee is applied by Eventbrite)
Tickets will also be available at D'Arcy's ARC or by calling Bo Kauffmann, REMAX  at 204-333-2202
There will be a raffle of valuable prizes, as well as a Live Auction.
To reserve your family pack of tickets, mailto:boknowshomes@gmail.com
We will also draw a Top Prize donated by WestJet for a Free Flight for 2, to anywhere WestJet flies.  Tickets for this draw are $10 each or 3 for $25 and sold at the event and also at D'Arcy's ARC animal shelter.  
Raffle-Tickets are available at the Shelter now.  Just one of the raffle prizes will be a gorgeous, 24k gold-dipped rose from Eternity Rose.  They sent it to us, free of charge, to be used at the event.  Thank you very much..